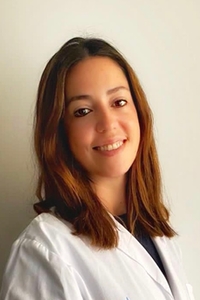 Beatriz
Ruiz de Gauna Vives
Especialidad:
Obstetricia y Ginecología
Especialidades:
Obstetricia y Ginecología
Información general
Experiencia
Hospital de Sant Joan de Déu. Esplugues de Llobregat. Barcelona. 2014 -2018
Médico Especialista Ginecología y Obstetricia. Hospital Cima Sanitas, Barcelona. 2015-2021
Médico Especialista Ginecología y Obstetricia. Clínica Eugin. Barcelona (Reproducción). 2014 hasta la fecha.
Especialista Ginecología y Obstetricia. Clínica Diagonal. Barcelona. 2014-2017.
Titulación
Tesis:
EXCELENTE con calificación CUM LAUDE. "Validación externa y análisis de reproductibilidad de las denominadas Simple Rules en la valoración ecográfica de las Masas Anexiales". 2015.
Master:
Máster en Endoscopia Ginecológica. Universidad Autónoma de Barcelona. Hospital Vall d´Hebrón. 2016-2017.
Máster Senología (Academia Internacional de Senología)- Patología mamaria. Universidad de Barcelona 2020-2022.
Publicaciones
-Placental 11B-Hydroxysteroid Dehydrogenase Type 2 mRNA Levels in Intrauterine Growth Restriction versus Small-for-Gestational-Age Fetuses. Gómez-Roig MD, Mazarico E, Cárdenas D, Fernandez MT, Díaz M, Ruiz de Gauna B, Vela A, Gratacós E, Figueras F.Fetal Diagn Ther. 2016;39(2):147-51. doi: 10.1159/000437139. Epub 2015 Aug 1.
-Diagnostic performance of IOTA simple rules for adnexal masses classification: a comparison between two centers with different ovarian cancer prevalence.

Ruiz de Gauna B, Rodriguez D, Olartecoechea B, Aubá M, Jurado M, Gómez Roig MD, Alcázar JL.Eur J Obstet Gynecol Reprod Biol. 2015 Aug;191:10-4. doi:10.1016/j.ejogrb.2015.05.024. Epub 2015 May 30
- Inter-observer agreement with regard to describing adnexal masses using the IOTA simple rules in a real-time setting and when using three-dimensional ultrasound volumes and digital clips. Ruiz de Gauna B, et al. Ultrasound Obstet Gynecol. 2014 Jul;44(1):95-9.
- "Fertility Preservation in Endometriosis". Endometriosis, a Multidisciplinary Approach. Chapter 19, pag 279. Human Reproductive System, Anatomy, Roles and Disorders. J. Callejo, B. Ruiz de Gauna. Published by Nova Science Publishers, Inc. New York. 2013.
- "Ovarian Mature teratoma: a ten year experience in our institution." G. Jalencas, E. Gonzalez Bosquet, B. Ruiz de Gauna, L. Fiores, L. Guirado, M. Fernández, J. Sabrià, M.D. Gómez Roig, J. Callejo. Journal of Women's Health, 2013.
- "A case of Endometriosis in Episiotomy Scar with Anal Sphincter Involvement". B. Ruiz de Gauna, D. Rodriguez, S. Cabré, J. Callejo. International Journal of Clinical Medicine, 2011, 2, 531-660.