Bassols Dorr Guillermo
Gynecology and Obstetrics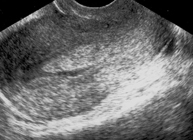 Uterine polyps (or endometrial polyps) are small masses of extra tissue found within the uterine cavity and which grow at the expense of the mucous membrane lining this cavity: the endometrium. They may occur singly or multiply.
Although they can develop at any age, women between the ages of 40 and 60 are most susceptible to uterine polyps.
Who runs the greatest risk of polyps?
Women with the highest risk of developing polyps are:
Obese women
Woman taking tamoxifen as a complementary treatment for breast cancer
Patients with high blood pressure
Women with cervical polyps
Uterine polyps often cause no discomfort and come to light in the course of a routine gynecological check-up.

Other women, however, may suffer from:

Irregularities in menstruation
Hematic vaginal discharge between periods
Heavy periods on certain days or in quantity
Vaginal hemorraghing after the menopause

Uterine polyps can be diagnosed by means of:

Transvaginal ecography which is sometimes followed by aninjection of a saline solution into the uterus in order to obtain a clearer image of the contents of the uterine cavity (hysterosonografy).
Hysteroscopy. Not only enables the suspected presence of a uterine polyp to be confirmed, but also for the polyp to be removed during the diagnostic process.
Uterine curettage. By means of a curette (a small metallic spoon) we are able to scrape the lining of the uterus and extirpate any uterine polyp.

Most uterine polyps are benign, although some may exhibit pre-cancerous changes (such as endometrial hyperplasia), and only in a minority of cases are polyps cancerous (endometrial cancer).

In some women uterine polyps increase the risk of miscarriage, while others experience difficulty in becoming pregnant.

We recommend extirpation of uterine polyps by hysteroscopy or uterine curettage. The possibility of hysterectomy exists only in the case of finding pre-cancerous changes or clear indications of neoplasia once the uterine polyp has been removed.
Contact us
Centro Médico Teknon
Bassols Dorr Guillermo
Vilana Offices (Office 173)
Vilana, 12
08022 Barcelona
Schedules
| | | |
| --- | --- | --- |
| Monday | 9.00-20.00 h | - |
| Tuesday | 9.00-20.00 h | - |
| Wednesday | 9.00-20.00 h | - |
| Thursday | 9.00-20.00 h | - |
| Friday | 9.00-18.00 h | - |