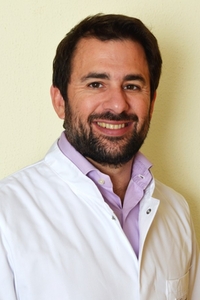 Specialty:
Orthopedic surgery and traumatology
Serving specialties:
Cirugía Ortopédica y Traumatología
Hospitals where he/she works:
General Information
Trained and educated in Germany and the U.S.A. in the most advanced techniques of endoscopy and percutaneous surgery of the spine
Experience
Medical Doctor (Dr. med.) by the Universität Witten-Herdecke, Germany
Board certified orthopedic surgeon (Medical Board of Berlin, Germany)
Graduate of the Medical School of the University of Barcelona, Spain
Surgical residency in orthopedic and trauma surgery at the hospital Charité Universitätsmedizin in Berlin, Germany
Visiting student at the Spine Surgery Service of the Yale Medical School, Yale University, New Haven, CT, USA.
Official member of the Medical Board (Barcelona)"
Advanced Trauma Life Support for Doctors (ATLS)
Degree
ENGINEERING
Doctor in Philosophy (Ph.D.) in biomedical engineering by the Universitat Politècnica de Catalunya (UPC), Barcelona, Spain.
Diplom-Ingenieur (Master of Science) in electrical engineering at the Karlsruhe Institute of Technology (KIT), Germany.
Visiting student at the Massachusetts Institute of Technology (MIT), Cambridge, MA, USA.
Visiting student at the Siemens Corporate Research (SCR) center in Princeton, NJ, USA.
Awards and certifications
Sociedades Científicas
Member of the North American Spine Society (NASS)
Member of the International Society for the Advancement of Spine Surgery (ISASS)
Member of the Institute for Electrical and Electronic Engineering (IEEE)"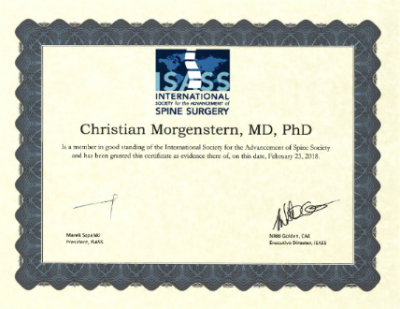 ISASS_Dr_Christian_Morgenstern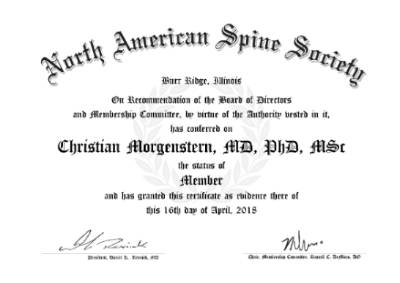 NASS_Dr_Christian_Morgenstern
FA-Urkunde-2019-updated