Torres Maczassek Ana
Plastic, Cosmetic and Reconstructive Surgery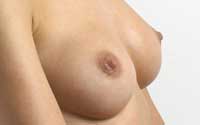 Mastopexy (breast lift) consists of raising and reshaping the breasts and may be done with or without the placement of implants.
This technique enables recovery of breast shape and part of the lost volume and is recommended in patients with breast ptosis (drooping), deformity, or who wish to reshape their breasts. In cases that lack volume when the breast is lifted, an implant is necessary, preferably in the submuscular plane.
The regularly-used procedure involves a vertical scar, as this provides a breast lift with better long-term results. It leaves only a vertical and a periareolar scar (incision made around the nipple).
Results
This technique raises and improves the shape of the breast with a completely natural and harmonious appearance.
Postoperative care
After the intervention, it is important to wear a well-fitting bra to reduce tension on the wounds, and then, after the stitches have been removed, we recommend using silicone strips and applying rose hip oil to help reduce scarring.
Contact us
Centro Médico Teknon
Torres Maczassek Ana
Vilana offices (office 150, 1st floor)
Vilana, 12
08022 Barcelona
Schedules
| | | |
| --- | --- | --- |
| <!-- A -->Monday | 09.00 - 14.00 h | 15.00 - 20.00 h |
| <!-- B -->Tuesday | 09.00 - 14.00 h | 15.00 - 20.00 h |
| <!-- C -->Wednesday | 09.00 - 14.00 h | 15.00 - 20.00 h |
| <!-- D -->Thursday | 09.00 - 14.00 h | 15.00 - 20.00 h |
| <!-- E -->Friday | 09.00 - 14.00 h | 15.00 - 20.00 h |