Vidal Font Manuel Aleix
Orthopedic surgery and traumatology
Artroscopia sin fronteras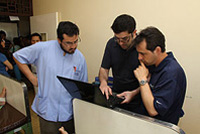 The team of Traumatology d'Esports d'i Hivern Medicine (TMEH) has initiated a teaching program to train specialists in Latin America who want to develop their knowledge in the field of arthroscopy. To enhance this activity Dr. Aleix Vidal has created a project with the aim of establishing a surgical platform in Latin American regions that have limited resources. The teaching project is supported by the Teknon Foundation and sponsored by the Association Aran.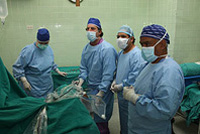 Last April 2010, a group of 12 people traveled to the Iquitos, Loreto region in Peru. Throughout one week, the team trained 17 students; orthopedic surgeons, iscrub nurses, anesthesiologists, local health personnel as well as computer technicians. They performed 35 knee arthroscopies and 2 ACL plasties.
Dr. Vidal's team is also developing a virtual university training program through the Open University of Catalonia in order to ensure continuous training of specialists.
Contact us
Centro Médico Teknon
Vidal Font Manuel Aleix
Office 103
Vilana, 12
08022 Barcelona
93 393 31 01
/
93 393 31 08
Schedules
| | | |
| --- | --- | --- |
| Monday | 08.00 - 20.00 h | - |
| Tuesday | 08.00 - 20.00 h | - |
| Wednesday | 08.00 - 20.00 h | - |
| Thursday | 08.00 - 20.00 h | - |
| Friday | 08.00 - 15.00 h | - |