Vidal Font Manuel Aleix
Orthopedic surgery and traumatology
What are Growth Factors?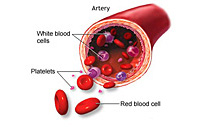 Fac. crecimiento1Growth Factors (PRP) are proteins found in our blood that play an important role in intercellular communication to repair injuries. By injecting growth factors or placing them directly into an injured tissue we accelerate and improve the cell regeneration process. We also shortening the recovery time, in some cases by half.
When do we use the growth factors (PRP)?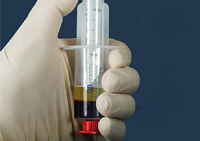 Fac. crecimiento2Growth Factors can be used for any tissue injury. They are used in cases such as tendinitis (Achilles, Patellar, etc.) Muscle injury (ruptures, partial muscle tears), fracture non-unions, cartilage injuries and others.
When PRP injections are required, how many are performed?
Generally speaking the time interval between injections should not exceed 21 days.
Tendon or muscle injuries usually take 3 to 5 injections. In the event of joint arthritis it usually takes between 4 and 8 injections per year and are prescribed depending on pain evolution.
How do I get Growth Factors?
To obtain growth factors, an extraction of 2cc of blood from the patient is needed. The blood is centrifuged to separate the platelets and plasma from the other cells. For every 10cc of blood we obtain 3 or 4cc platelet rich plasma.
How long does an infiltration take? Where is it done?
The time it takes to perform the entire procedure is approximately 40 minutes. We perform PRP injections in the Institute Teknon Regeneració Tisular (ITRT) at Centro Medico Teknon in Barcelona. It can also be done performed during any surgical procedure in the operating room.
What is the recovery time after the injection?
There is no recovery period after infiltration. The patient can continue with normal daily activity.
What are possible complications?
No adverse reactions or allergies have been reported. Infection may occur at the infiltration site but when performed in proper conditions this is very unlikely.
Contact us
Centro Médico Teknon
Vidal Font Manuel Aleix
Office 103
Vilana, 12
08022 Barcelona
93 393 31 01
/
93 393 31 08
Schedules
| | | |
| --- | --- | --- |
| Monday | 08.00 - 20.00 h | - |
| Tuesday | 08.00 - 20.00 h | - |
| Wednesday | 08.00 - 20.00 h | - |
| Thursday | 08.00 - 20.00 h | - |
| Friday | 08.00 - 15.00 h | - |