Vidal Font Manuel Aleix
Orthopedic surgery and traumatology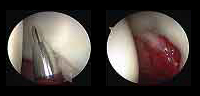 Imagen con artroscopia de entrada de instrumentos para la cirugía
The hip joint is formed by the acetabular cavity and the head of the femur. The entire surface of the hip is covered with a smooth structure called articular cartilage which allows a smooth gliding between bones.
The practice of certain sports, especially soccer, tennis and martial arts, may cause the most common injuries such as sprains, injuries to the labrum and cartilage injuries.
Arthroscopy provides a good way to address problems within the hip joint with less tissue damage and faster recovery and comfort.
Artroscopia caderaArthroscopy is a surgical procedure to explore, diagnose and treat problems inside a joint. It involves inserting an optical system with a light source connected to a digital camera to visualize intra-articular structures.


What are the most common injuries treated with hip arthroscopy?

Loose bodies, articular cartilage and small fragments that break off and damage the joint
Labral injuries or acetabular labrum
Injuries of the articular cartilage surrounding the femoral head, causing irregularities in the surface contact between the femur and acetabulum

How is arthroscopic surgery performed?

Hip arthroscopy is performed under general anesthesia. The patient usually stays overnight, although the trend is gradually changing to outpatient surgery.

How is the post-operative hip arthroscopy?

Prótesis caderaThe patient must use crutches for about 10 days. After that, he/she can resume their daily activities. We encourage the patient to start bicycling the very first day after surgery. A specific hip rehabilitation program is needed for a better result.


What is a hip Prosthesis?

Above we can appreciate femoral head changes that provoke narrowing of the joint space known as hip osteoarthritis. Below the damaged joint has been replaced with a hip prosthesis.

A joint prosthesis or joint replacement refers to an artificial replacement of a degenerated joint.

The prosthesis components are made of different materials: titanium, steel, polyethylene and ceramic... Depending on which component we refer to it is important to distinguish between "bone-anchor material" and "friction material". In hip arthritis the cartilage that surrounds the femoral head tends to lose its moisture. Drying and cracking result in articular irregularities and sometimes produce loose bodies. These loose bodies and cracks cause pain.

prótesis_cadera1 prótesis_cadera2

Who should have hip replacement surgery?

People who are functionally limited in their lives due to pain regardless of age (pain, difficulty sleeping, changing habits in daily life...). This is a subjective perception, so the patient himself, in collaboration with the ortho specialist should decide when it is time to implant prosthesis or if it is advisable to delay surgery.

How is a hip prosthesis implanted?

The surgeon must conform and adapt the bone to the components of the prosthesis. This process is called anchoring or presfitting. There are two ways to facilitate the anchoring of the prosthesis to the bone:

Shaping the bone so that the prosthetic components are perfectly adjusted to the bone, these are "un-cemented prosthesis".
Using a "cement" that binds the bone-prosthesis interface which acts and adapts the irregularities of the bony anatomy.

The use of either technique depends on the individual's age and state or quality of bone.

The procedure is performed under epidural anesthesia. It procedure usually takes around 75 minutes. The stay at the clinic ranges from 5 to 8 days, and can be extended or shortened depending on the patient's condition.

How is post-operative life?

Patients receiving a hip a replacement should walk with crutches the month following the intervention. Then they can return to normal life, although there are divergent opinions on the practice of sport. It is not advisable to perform contact sports (karate, judo, soccer ...) for a period of six months. Going to the gym and practicing other light sports (biking, tennis, skiing ...) is usually not a problem after 3 months.

How long does a prosthesis last?

Hip prostheses have a limited life. Generally speaking there is no need to replace the hip prosthesis and statistics show that 85% of hip prosthesis are still in place after 20 years. In some exceptional cases you may need a second surgery due to the loosening or wearing of the prosthesis. The reasons for this loosening can be diverse:

In the case of cemented prosthesis the loss of consistency of the cement
Late infection, due to any possible outbreak or secondary infections

The so called "polyethylene disease" caused by wear due to friction of the materials in the prosthesis. Over time, small particles can break off causing bone destruction or loosening (osteolysis).

Therefore, it is advisable to perform periodic controls, usually after the first month, the first year, 5 years and 10 years of follow-up.

More information about minimally invasive surgery
Contact us
Centro Médico Teknon
Vidal Font Manuel Aleix
Office 103
Vilana, 12
08022 Barcelona
93 393 31 01
/
93 393 31 08
Schedules
| | | |
| --- | --- | --- |
| Monday | 08.00 - 20.00 h | - |
| Tuesday | 08.00 - 20.00 h | - |
| Wednesday | 08.00 - 20.00 h | - |
| Thursday | 08.00 - 20.00 h | - |
| Friday | 08.00 - 15.00 h | - |