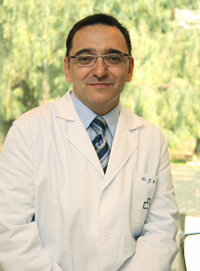 José Emilio
Batista Miranda
Hospitals where he/she works:
General Information
Experience
Member of Centro Médico Teknon since 1996, with full dedication since 2003. Co-ordinator of the Urodynamics unit and "Quality of life" programs within Teknon Foundation
"Locum" clinical co-ordinator of the Urodynamics Unit at Vall d'Hebron University Hospital (2005)
Member ot the Ethics commitee at Barcelona's College of Physicians and member of various international expert panels (ICI, BPH etc). Reviewer for Urology Journals.
Degree
MD by the Universitat Autònoma de Barcelona/Vall d'Hebron Hospital (1987), with Honours
Specialist in Urology thorugh the National Residency Program (MIR) at Fundació Puigvert (1993)
PhD with a Thesis on "Oxibutinin in children with unstable detrusor" Cum Laude (1997)
Training visits to Viena, Los Angeles and Bristol (UK)
"La Caixa" fellowship at Boston University and Boston's Children'sHospital (Harvard University, 1994)
Research and teaching
He has participated in 13 research projects. Among them,7have taken place through Teknon Foundation
He runs a course recognised by the International Continence Society (ICS) to train nurses and doctors in urodynamic diagnosis (first Spain and the sixth in the world)
He has been guest speaker in over 30 meetings, as well as pre and post graduate courses in medical and nursing schools of Barcelona
He has collaborated with general media in Spain and the USA
Publications
Author of 96 papers in medical Journals (23 international),and author of 9 book chapters (Publications in Spanish, English, German, Japanese and Catalan).
Author of over 50 communications to meetings.