Palacín Casal Josep María
Plastic, Reconstructive and Aesthetic Surgery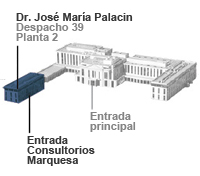 localizaciónDr. José Mª Palacin has more than 20 years of experience in Plastic Surgery. During this period he and his team have performed about 9,000 surgical procedures, including Facial and Nasal Aesthetic Surgery, Breast Aesthetic Surgery,Body Contour Surgery and Reparatory Surgery.

Our Philosophy
Erotic Bust Nude VII. Renata Brzozowska Art Collection Barret-Joly
"Looking better and seeing oneself better. This is the reason that most of our patients give as an explanation of their decision to consider Plastic Surgery.
The basis of our philosophy is honesty to our patients and to ourselves as doctors. The expectations before Plastic Surgery procedures must be real and clear.
Ours is creative and evolutionary specialty that we are passionate about."
More information
The excellency in plastic surgery
Aesthetic surgery abroad
Some of the hallmarks of Plastic Surgery are innovation, creativity, compassion and a quest for perfection. Innovation and creativity are easier for some than for others; however, critical evaluation of results constitutes the basis for the advancement of Plastic Surgery. Compassion, the human touch that comes along with any daily medical activity, is an inherent quality of plastic surgeons, nurtured by the interaction with many humans beings troubled by their appearance. Every plastic surgeon should strive for excellency, intensity in human interaction, perfection in surgical technique, and state of the art medical treatment. More than ever, the merging of Teknon and Plastic Surgery creates the perfect setting for excellency in Plastic Surgery --concentration on the basic principles that never change--: good personal interrelationships, state of the art surgical technique, intense pre and postoperative control and keeping up with the latest advances. The essence of Teknon and the essence of Plastic Surgery: "a better way to do it".
Restoring lives
As plastic surgeons we share an opportunity to change people's lives at a time when they may feel that not much help can be offered to them and that not much about them can be improved upon. We believe that it as a privilege to practice Plastic Surgery and an honour to help patients fulfil their wishes. We offer the full range of Reconstructive Plastic Surgery to our patients, from congenital deformities to acquired and oncologic problems. We interact and treat patients in a multidisciplinary fashion when needed, making cranio-maxillo-facial surgery, oncoplastic surgery, complex hand surgery, reconstructive microsurgery, burn reconstruction, limb salvage or surgery of paralysis, among others, possible at Teknon. We are proud to believe that we offer patients the possibility to take that extra step required to restore their lives.
Surgery of human emotions
Aesthetic Surgery is also an integral entity at Teknon. Patients seeking improvement of their appearance will find and benefit the same group of enthusiastic specialists with similar approach ready to change and treat what the patient requires. There is a thin line between Reconstructive Surgery and Aesthetic Surgery, and many times both are deeply involved in the treatment of patients. The whole spectrum of Plastic Surgery is required in the treatment of Aesthetic Surgery because the plan should be integral, joining the expertise of cosmetic medicine, laser platform, and surgery. It is impossible to say what is beautiful and what is not, but it is very easy to tell the difference between right and wrong, and what is right will look normal and harmonious, making patients self confident and happy. Treatments are thorough and personalised, offering individual packages to every patient that consult us with one sole goal: to improve well-being and making that person complete. There is no study that shows that Aesthetic Surgery makes life longer, however, well-being and happiness do indeed.
Professionalism and confidentiality
There is always a better way to do things and we are proud to follow this direction. A hospital is much more than a state of the art technical building. It is about the people that work in the institution. Our team offer the highest standard of professionalism, obtained through optimal training and international experience in Europe, the UK and the USA. We offer plastic surgery patients the infrastructure of Teknon, a 24 hour 7 day a week care from plastic surgeons and an individualised discharge plan and program. Confidentiality is also very important for us. We adapt to patient´s requirements. We are always open to requests form patients or patient´s practitioners when our help is required. We will be there, for as long as you need us.
Contact us
Centro Médico Teknon
Palacín Casal Josep María
Marquesa office (office 39)
Marquesa de Vilallonga, 12
08017 Barcelona
Schedules
| | | |
| --- | --- | --- |
| Monday | 10.00 - 14.00 h | 15.30 - 19.30 h |
| Tuesday | 10.00 - 14.00 h | 15.30 - 19.30 h |
| Wednesday | 10.00 - 14.00 h | 15.30 - 19.30 h |
| Thursday | 10.00 - 14.00 h | 15.30 - 19.30 h |
| Friday | 10.00 - 14.00 h | - |