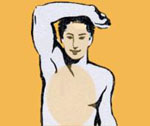 Exposure to solar radiation
The incidence rate of skin cancer can be reduced providing we take a rational approach to exposure to solar radiation (common sense sunbathing) and by carrying out regular self-examination.
Self-examination of the skin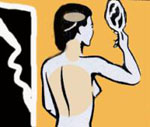 The best time for self-examination of the skin is when taking a bath or a shower. For this you will need a large mirror and a hand mirror. It is necessary to take into account skin lesions already present and to note any change or the appearance of a new lesion.
The steps to follow are:
Examine your face and then, with your arms raised, your body, both front and back as well as the sides.
Examine arms, forearms, hands and nails.
Behind the legs. In a seated position, examine your feet, particularly the soles and between your toes.
Examine your neck and back with a hand mirror, not forgetting the scalp with the aid of a comb, parting the hair to get a good view.
Examine your lower back, buttocks and genitals with a hand mirror.
Contact us
Centro Médico Teknon
Garces Gatnau Joan Ramón
Consultorios Vilana (office 126 y 175)
Vilana, 12
08022 Barcelona
93 393 3175 (office 175)
/
93 393 30 24
/
93 393 30 26 (Fax)
Schedules
| | | |
| --- | --- | --- |
| Monday | 9.00 - 15.00 h | 15.00 - 20.00 h |
| Tuesday | 9.00 - 15.00 h | 15.00 - 20.00 h |
| Wednesday | 9.00 - 15.00 h | 15.00 - 20.00 h |
| Thursday | 9.00 - 15.00 h | 15.00 - 20.00 h |
| Friday | 9.00 - 15.00 h | 15.00 - 20.00 h |