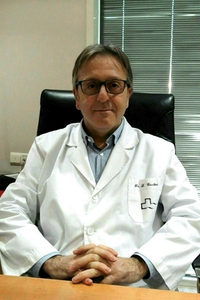 Hospitals where he/she works:
General Information
Born in Manresa, March 8, 1968.
Experience
He has practiced several live laparoscopic surgeries in national meetings and is actively participating in the different local, national and international congresses. These facts have let him become one of the persons responsible for the incorporation of laparoscopy in the field of Urology in Spain, being nowadays an AEU (Asociación Española de Urología) mentor for the formation in laparoscopy across the country.
Degree
He studied Medicine at the Universitat Autònoma de Barcelona (Vall d'Hebron Docent Unit, 1987-1992)
His specialization formation via MIR in Urology was done at the Hospital Universitari Germans Trias i Pujol in Badalona (1994-1998). It was there where later he contributed to the start and development of the laparoscopic surgery program in Urology.
He obtained the Doctor in Medicine and Surgery degree (M.D.) by the Universitat Autònoma de Barcelona with an excellent cum laude grade in 2006.
Communications and Presentations
Specific congress speeches
Starting Laparoscopic Surgery.

Scientific session. Urology Department. Hospital Clínic. Barcelona, February 21, 2003

II Basic Course Urological Laparoscopic Surgery Fundació Puigvert.

Barcelona. April 9 and 10, 2003.

Laparoscopic surgery in Urology.

Radical Prostatectomy IX Simposi Institucional de la Societat Catalana d'Urologia. Salou, September 19-21, 2003.

Laparoscopic radical prostatectomy.

3º Congreso Nacional de la Sociedad Española de Cirugía Laparoscópica. Valladolid, October 16, 2003.

Primeras Jornadas Internacionales sobre Laparoscopia Urológica.

Urolap 2004 Surgical session Moderator. Madrid, October 21-22, 2004

Round table: Urological Laparoscopy in Oncology.

17ª Reunión Nacional de Litiasis, Endourología y Laparoscopia Urológica. Vielha, January 19-21, 2005.

Round Table: Laparoscopic Surgery in Prostate Cancer.

XXII Reunión Nacional del Grupo de Urología Oncológica. Vila-Real April 8-9, 2005.

Societat Catalana d'Urologia Session: Laparoscopy in Urology.

Prostatectomy and Radical Cystectomy Barcelona (Bellvitge), June 11, 2005.

Round Table: "How to learn laparoscopy in Spain.

Is there a method?" I Jornadas Internacionales 'Urología del futuro'. Madrid, June 18, 2005.

Closing Session of the Societat Catalana d'Oncologia i Radioteràpia

" Laparoscopic Radical Prostatectomy" Barcelona, June 28, 2005.

Round Table. Urologic Laparoscopy.

Actuality, learning, future XI Curso Internacional de Urología. Hospital Universitario Miguel Servet. Zaragoza, February 6-9, 2006.

Challenges in urologic laparoscopy:

How to systematize radical cystectomy V Congreso Nacional Sociedad Española de Cirugía Laparoscópica. Ceuta, April 19-21, 2006.

Round Table: Results of organ confined prostate cancer:

laparoscopic surgery XXIII Reunión Nacional Grupo de Urología Oncológica y II Reunión Intergrupos. Granada, April 21-22, 2006.

Laparoscopic radical cystectomy:

how I do it LXXI Congreso Nacional de la Asociación Española de Urología. Sevilla, June 10, 2006.
Congress's accepted videos
"Laparoscopic Nephrectomy" (2002)
"Laparoscopic Pyeloplasty" (Best Video Award for the Societat Catalana d'Urologia, 2002)
"Laparoscopic radical prostatectomy. Surgical technique" (Best Video Award for the Societat Catalana d'Urologia, 2003)
"Laparoscopic Nephrectomy. Variations" (2003)
"Variations in laparoscopic approach to pyelouretheral junction stenosis" (2003)
"Laparoscopic radical prostatectomy. Step by step technique" (2003)
"Bilateral laparoscopic Pyeloplasty" (2004)
"Anterior approach in laparoscopic radical prostatectomy" (2004)
"Laparoscopic Radical Cystectomy. Technique evolution" (2004)
"Laparoscopic Partial Nephrectomy without ischemia" (2004)
"Laparoscopic Radical Cystectomy with bladder replacement" (2005)
"Laparoscopic Uretheroneocystostomy with bladder flap" (2005)
"Laparoscopic Radical Prostatectomy 2001-2006: what we have learned" (2006)
"Radical Cystectomy with bladder replacement" (Spanish and English versions, 2006)
Live surgery
Scientific Session of the Societat Catalana d'Urologia 'Laparoscopy in Urology' Laparoscopic radical prostatectomy. Hospital Universitari Germans Trias i Pujol, Badalona, June 14, 2002.
4º Congreso and VII Jornadas de Cirugía en Directo de la Sociedad Vasca de Urología Laparoscopic radical prostatectomy. Bilbao, October 3 and 4, 2002.
V Jornada Quirúrgicas de la Sociedad Gallega de Urología. Laparoscopic radical prostatectomy. Pontevedra, October 18 and 19, 2002.
Scientific Meeting of the Societat Catalana d'Urologia "Treatment of localized prostate cancer" Laparoscopic radical prostatectomy. Fundació Puigvert, Barcelona, January 24, 2003.
VIII Jornadas Quirúrgicas de la Sociedad Gallega de Urología Laparoscopic radical prostatectomy (two surgeries). Vigo, October 28 and 29, 2005.
XI Curso Internacional de Urología. Hospital Universitario Miguel Servet Laparoscopic radical prostatectomy. Zaragoza, February 7, 2006.
Laparoscopic Surgery Session. Clínica Girona Laparoscopic Radical Prostatectomy and Laparoscopic Radical Nephrectomy. Girona, May 8, 2006.
Desafíos en Uro-Oncología DUO 2007 Laparoscopic radical cystectomy. Donostia, October 19, 2007
Awards and certifications
Premios
Premio al mejor vídeo por "Cistectomía radical laparoscópica con conservación de erectores" en el VII Congreso Nacional de la Sociedad Española de Cirugía Laparoscópica. (2008)
Premio al 3r mejor artículo títulado "Cistectomía radical laparoscópica en los tumores vesicales clínicamente localizados" en la XXXI Edición de los Premios Pérez Castro. (2008)
Premio 'Dr. Joan Fígols' a la mejor técnica quirúrgica por el vídeo "Tratamiento quirúrgico por vía laparoscópica de la fístula ureterovaginal" de la Sociedad Catalana de Urología. (2013)
Miembro del jurado de los Premios Pérez Castro de la revista Archivos Españoles de Urología. (2013)