Onbargi Leila Catherine
Obstetrics and Gynecology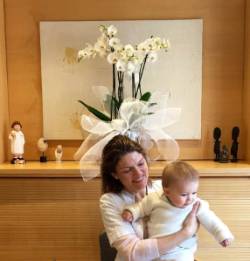 dra onbargi ginecologíaDr. Leila Catherine Onbargi is an American (English speaking) doctor / gynecologist in Barcelona who obtained her medical degree from The Feinberg School of Medicine (Northwestern University) followed by residency training in Obstetrics and Gynecology at Prentice Women´s Hospital (Northwestern University) both in Chicago.
She is certified by the American Board of Obstetrics and Gynecology (ABOG) since 1995, is a fellow of the American College of Obstetrics and Gynecology (ACOG), and is a member of several other prestigious American and Spanish medical associations.
Dr. Onbargi brings her training and years of experience to her international practice in Barcelona providing expert, thorough and personalized care in multiple languages in a beautiful hospital setting.
Our practice provides comprehensive gynecological and obstetrical care, including:
General gynecology and annual gynecological exams
Family planning and contraception
Gynecological and endoscopic surgery
Prenatal care and childbirth
Breast health
Infertility and reproductive medicine
Specialized care in menopause
Pelvic floor dysfunction and urinary incontinence
Regenerative Gynecology
In gynecology, we keep up to date with all the latest advances in the specialty by attending international meetings and thorough review of monthly publications in the key journals in our field; the newest therapies for the treatment of common gynecological disorders, the latest methods of birth control, advances in fertility treatments, and the application of the new term, regenerative gynecology to our field, which includes treatment of pelvic floor dysfunction, urinary incontinence, and restoration of vaginal function, anatomy and appearance.
In obstetrics, we provide up to date prenatal services, the latest fetal genetic diagnostic testing and advanced ultrasound fetal imaging. Deliveries are carried out by a team of dedicated and highly qualified professionals who take a natural approach to pregnancy and childbirth in state of the art facilities.
As the population ages and more women enter menopause, we provide expert guidelines and recommendations to treat common physical and emotional symptoms of menopause using an integrated approach, including natural therapies and bioidentical hormone replacement when indicated.
To support our efforts in preventive medicine we promote campaigns for early detection and evaluation of breast cancer, cancer of the uterus, cervix, and ovaries, in addition to other non-gynecological conditions which are common to women, including depression, bone loss and cardiovascular health, increasingly important as women begin to age. New genetic testing is available to assess individual risk for certain cancers and pathologies.
All these are examples of our goal:
To offer complete and integrated multilingual healthcare for women at all stages in their lives.
*Private paying patients or insurance policies with reimbursement plan
Contact us
Centro Médico Teknon
Onbargi Leila Catherine
Office 161
Vilana, 12
08022 Barcelona
Schedules
| | | |
| --- | --- | --- |
| Monday | 09.00 - 15.00 h | - |
| Tuesday | 09.00 - 15.00 h | - |
| Wednesday | 09.00 - 15.00 h | - |
| Thursday | 09.00 - 15.00 h | - |
| Friday | 09.00 - 15.00 h | - |