Riambau Alonso Vicente
Angiología y Cirugía Vascular
After heading towards invasive treatments that characterized the development of surgery of the 20th Century, a tendency to perform surgical procedures in a less invasive manner in all surgical subspecialties has been developing towards the end of the century. The great technological advances gave rise to and favored these changes, by developing techniques of video-assisted and percutaneous surgery.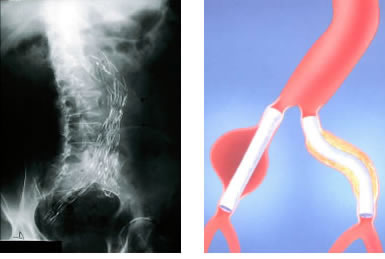 Endovascular surgery resolves many cases of vascular disease (stenosis, occlusions, aneurysms, fistulas) with a simple percutaneous approach. By means of the introduction of guides and catheters through a vessel, most commonly the femoral artery, which transports cutting balloons for the dilatation of vessels, endografts, the patient benefits from the advantages of local anesthesia, a less aggressive technique and a shorter and more comfortable post-operative period; in many cases, the procedures can be performed with one day being admitted in the hospital, then discharged.
Many of these methods have been converted into the elective treatment of certain pathologies, above all those that affect the iliac, visceral or renal sections. On occasion, they can be utilized for high surgical risk surgical patients in which open surgery might be more precarious, even though the results at medium and long-term are inferior and just serve as a palliative or temporary form.
Angioplasty and endografts stand out among these methods.
Stent simple and coated stent (See Image)


Contact us
Centro Médico Teknon
Riambau Alonso Vicente
Consultorios Vilana (despacho 190)
Vilana, 12
08022 Barcelona
666 52 11 54
/
93 393 31 90
Schedules
| | | |
| --- | --- | --- |
| Monday | 09.00 - 21.00 h | - |
| Tuesday | 09.00 - 21.00 h | - |
| Wednesday | 09.00 - 21.00 h | - |
| Thursday | 09.00 - 21.00 h | - |
| Friday | 09.00 - 21.00 h | - |