Riambau Alonso Vicente
Angiología y Cirugía Vascular
Vascular Surgery
Vascular surgery may be either arterial or venous. The arterial one is a surgery comprised by its complexity and because with it, one is always playing face to face with the life of a patient or with the limb in which is it located, since obtaining its normal functioning and that it might have a good irrigation of blood is vital. A poor result can lead to amputation of this limb. Therefore, it deals with a stressful surgery for both the patient and the surgeon.
Endovascular Surgery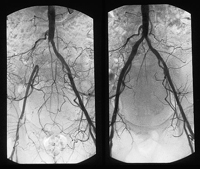 Endovascular surgery endeavors, by means of catheters, to resolve problems of little access or narrowing of blood vessels, above all, aneurysms or stenosis, in particular, iliac or aortoiliac.
After heading towards invasive treatments that characterized the development of surgery in the 20th Century, towards the end of this century, a tendency was made to perform less invasive treatments in all the surgical specialties. The great technological advance encouraged and favored these changes, by developing video-assisted surgical techniques and percutaneous surgery.
Endovascular surgery resolves many cases of vascular illness (stenosis, occlusions, aneurysms, fistulas….) with a simple percutaneous approach. By means of the introductions of guides and catheters through a vessel, normally the femoral artery, which serves to transport by dilatation balloons, the endograft. The patient benefits from the advantages of local anesthesia, a less aggressive technique and a shorter and more comfortable post-operative recuperation; in many cases it can be performed one day in the hospital, with an admission of 24 hours.
Many of these methods have been converted into the elective treatment of certain pathologies, above all, those that affect the iliac, visceral or renal arterial sector. On occasions, they can be applied to patients who are at high-risk for surgery, in which open surgery would be more precarious, even though the results at medium and long term would not be as durable, and to serve as a palliative or temporary form.
Among the most commonly utilized methods stand out Angioplasty and endografts.
Contact us
Centro Médico Teknon
Riambau Alonso Vicente
Consultorios Vilana (despacho 190)
Vilana, 12
08022 Barcelona
666 52 11 54
/
93 393 31 90
Schedules
| | | |
| --- | --- | --- |
| Monday | 09.00 - 21.00 h | - |
| Tuesday | 09.00 - 21.00 h | - |
| Wednesday | 09.00 - 21.00 h | - |
| Thursday | 09.00 - 21.00 h | - |
| Friday | 09.00 - 21.00 h | - |