Morgenstern López Rudolf
Traumatology and Orthopedic surgery
Advanced spine surgery in complex cases
Not all cases in spine surgery are simple to solve and sometimes advanced surgery is required to solve the most complex cases. With more than 20 years of experience, at the Morgenstern Institute of Spine we are used to solve all kind of complex spine cases, including those with degenerative scoliosis, infections and patients previously operated on the spine (failed back surgery).
Still, our treatment philosophy stays the same for complex spine cases as for the simple cases: we employ the most advanced endoscopic and percutaneous surgical techniques to solve the patient's pain problem, speed up the recovery time and allow a hospital discharge just a few days after surgery.
Degenerative scoliosis
Scoliosis is a deformity/curving of the spine in the frontal plane. It can be congenital (present since birth) or degenerative (developed during the aging process). Progressive degeneration of the intervertebral disks (because of age, weight, activity, etc.) can lead to the spine to deform and curve in, ending up as a degenerative scoliosis, also called "de novo" because it is of "new" appearance in comparison to congenital scoliosis which has been present since birth.
Scoliosis lead to a curved back with the patient having problems walking with a straight back, and it can lead to an intense back pain. The spinal deformity and curving can lead to an impingement of the nerve roots which can cause radiating leg pain.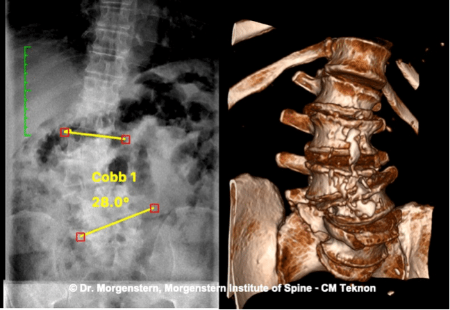 Escoliosis-degenerativa
Example of a degenerative scoliosis of the lumbar spine
In these painful cases, surgery is indicated to (partially) correct the deformity and mainly to reduce/eliminate the pain generated by the scoliosis. In the most severe scoliosis cases an osteotomy (chiseling of a vertebral bone) may be required to straighten up the spine and reduce its deformity.
At the Morgenstern Institute of Spine we use the most advanced surgical endoscopic and percutaneous techniques to correct the degenerative scoliosis and speed up the patient's recovery time. Hospital discharge is usually just two days after surgery.
Clinic Case 1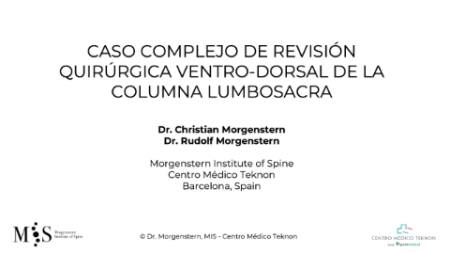 Diapositiva1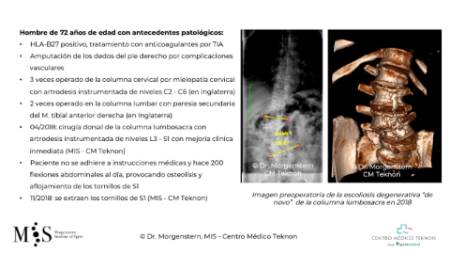 Diapositiva2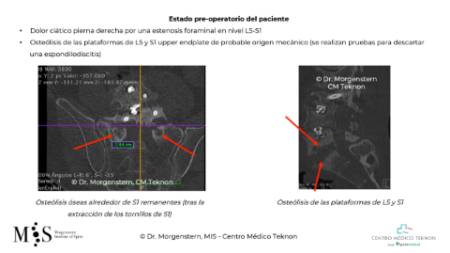 Diapositiva3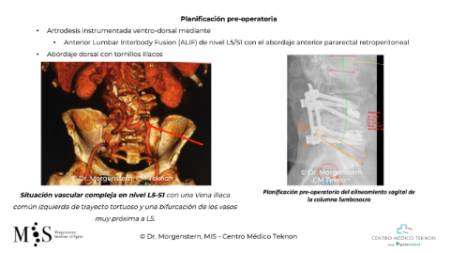 Diapositiva4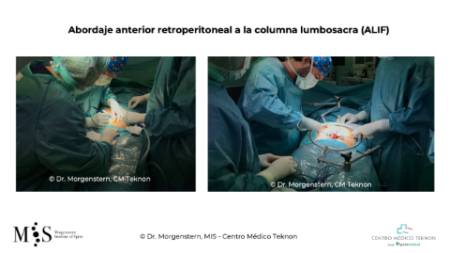 Diapositiva5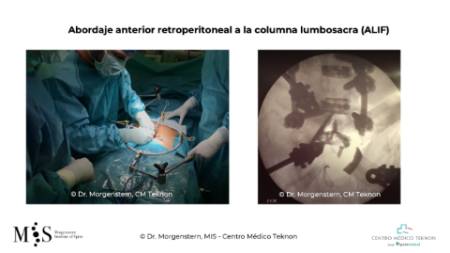 Diapositiva6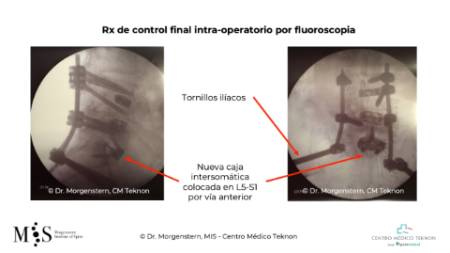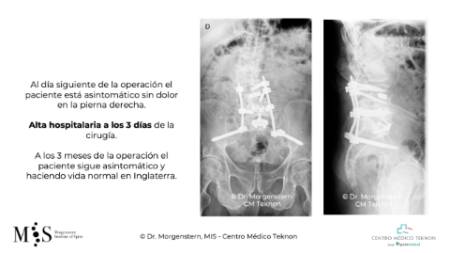 Diapositiva8
Clinic Case 2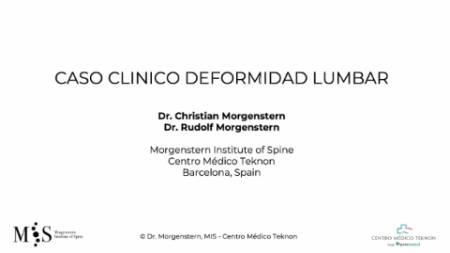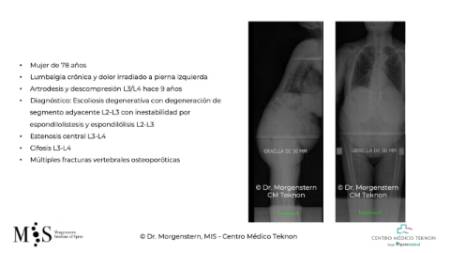 Diapositiva2-1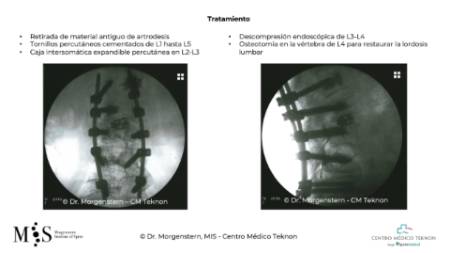 Diapositiva3-1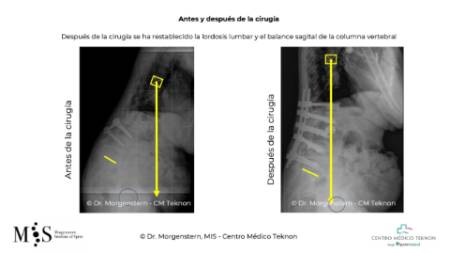 Diapositiva4-1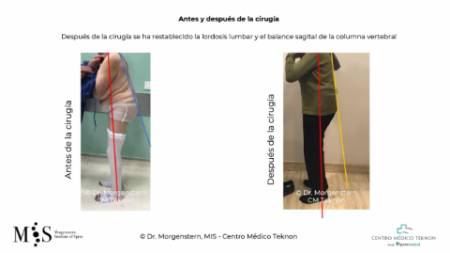 Diapositiva5-1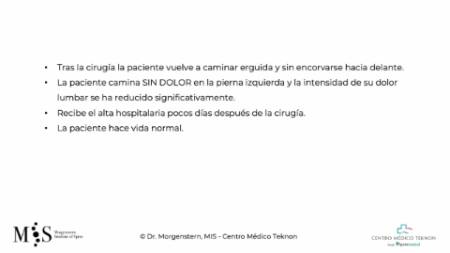 Diapositiva6-1
Revision spine surgery
Patients who have had previous surgery on their spine and continue having pain or may even have newly appeared pain, may require revision spine surgery. Revision surgery can be challenging especially if the surgery is at the same level of the spine as a previous surgery. Scar tissue of the previously operated area makes it more difficult to differentiate anatomical planes and therefore increases the risk of damaging a nerve during surgery (due to the adherence of the nerves to the scar tissue) and infection.
At the Morgenstern Institute of Spine we use endoscopic, percutaneous and minimally invasive surgical techniques that allow us to bypass previously operated areas and hence, avoid the patient's internal scar tissue, lowering the risks of infection and an accidental injury. Surgical approaches like i.e. the anterior approach or endoscopic fusion surgery allow us to access the spine from the side or the front (through the belly) and circumvent previously operated tissue. Hence, patient recovery is much faster than with traditional approaches.

Clinic Case 3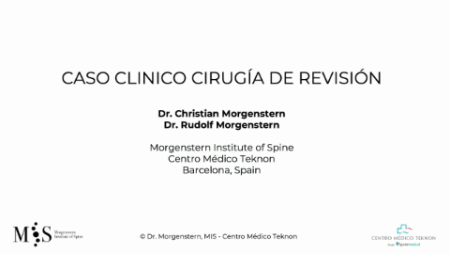 Diapositiva1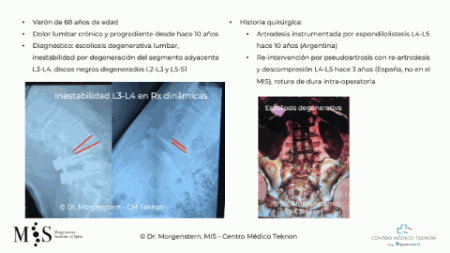 Diapositiva2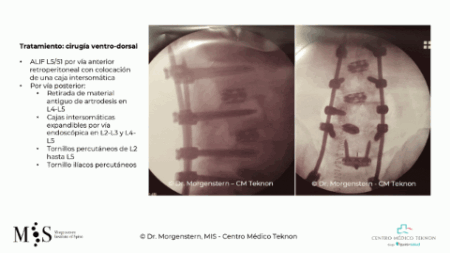 Diapositiva3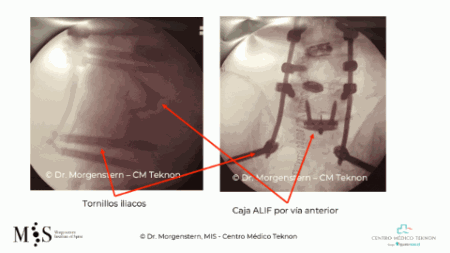 Diapositiva4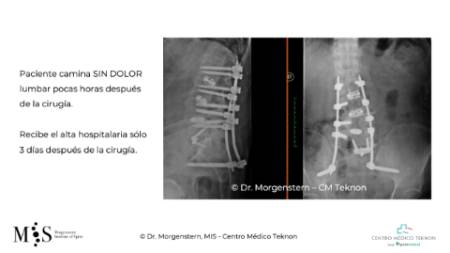 Diapositiva5
Clinical Case revision surgery
Vídeo of the patient walking painlessly 3 days after surgery (hospital discharge day)
Clinic Case 4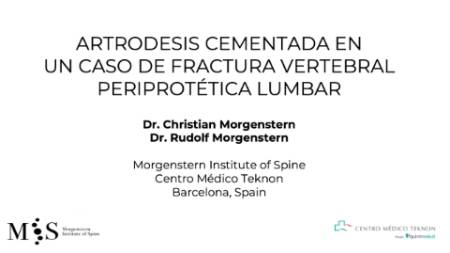 Diapositiva1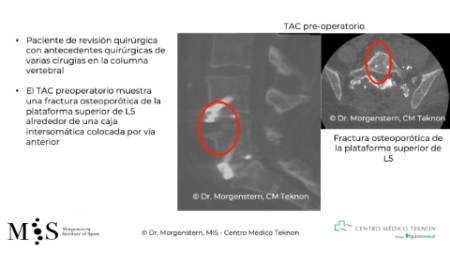 Diapositiva2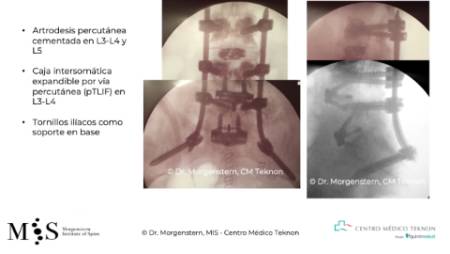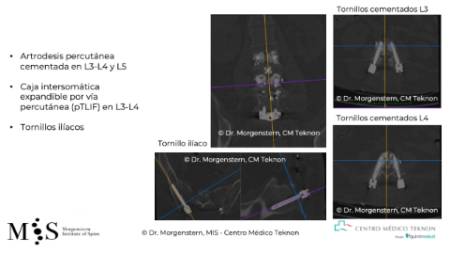 Diapositiva4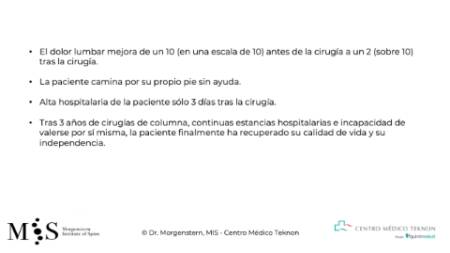 Diapositiva5
Infections of the spine – spondylodiscitis
An infected intervertebral disk (spondylodiscitis) is usually caused by previous surgery of the spine. A disk infection usually presents with fever and intense back pain that does not respond to pain killers. The treatment is usually a combination of both surgical and intravenous antibiotic therapy for several weeks.
On the other hand, an infection of the spine with a low-grade pathogen usually results in a chronic infection. A low-grade infection usually does not present fever but any devices previously placed in the spine (i.e. screws, rods, interbody cages, etc.) ends up loosening, generating instability and pain. Treatment of chronic infections usually requires a complete surgical removal of the infected devices, placing new devices into to stabilize the spine and a prolonged antibiotic treatment to protect the newly introduced devices from a new infection.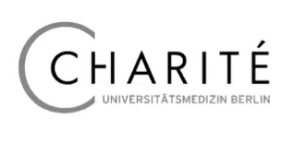 charite en Berlín, Alemania
At the Morgenstern Institute of Spine we have an extensive experience in the treatment of spinal infections and we closely cooperate with the group for orthopedic-device related infections at the Charité clinic in Berlin, Germany, one of Europe's most distinguished groups in this area, to offer our patients a combination of the best and newest treatments for spine infections.

Clinic Case 5
Diapositiva1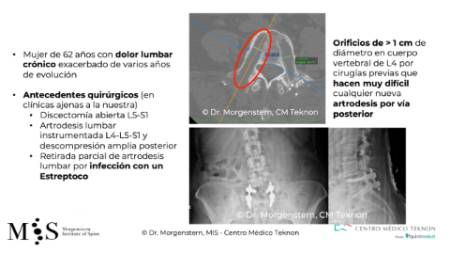 Diapositiva2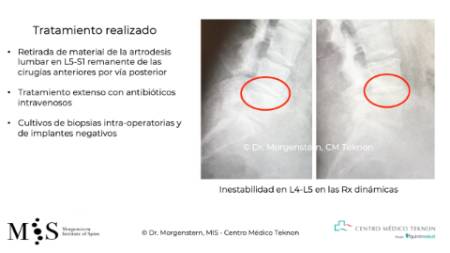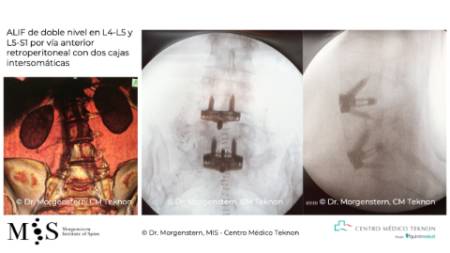 Diapositiva4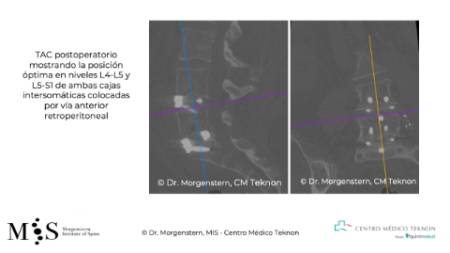 Diapositiva5


Contact us
Centro Médico Teknon
Morgenstern López Rudolf
Taxi Office
Vilana, 12
08022 Barcelona
93 393 31 00
/
626 420 119 (Whatsapp)
Schedules
| | | |
| --- | --- | --- |
| Monday | 9.00 - 15.00 h | - |
| Tuesday | 9.00 - 15.00 h | - |
| Wednesday | 9.00 - 15.00 h | - |
| Thursday | 9.00 - 15.00 h | - |
| Friday | 9.00 - 15.00 h | - |